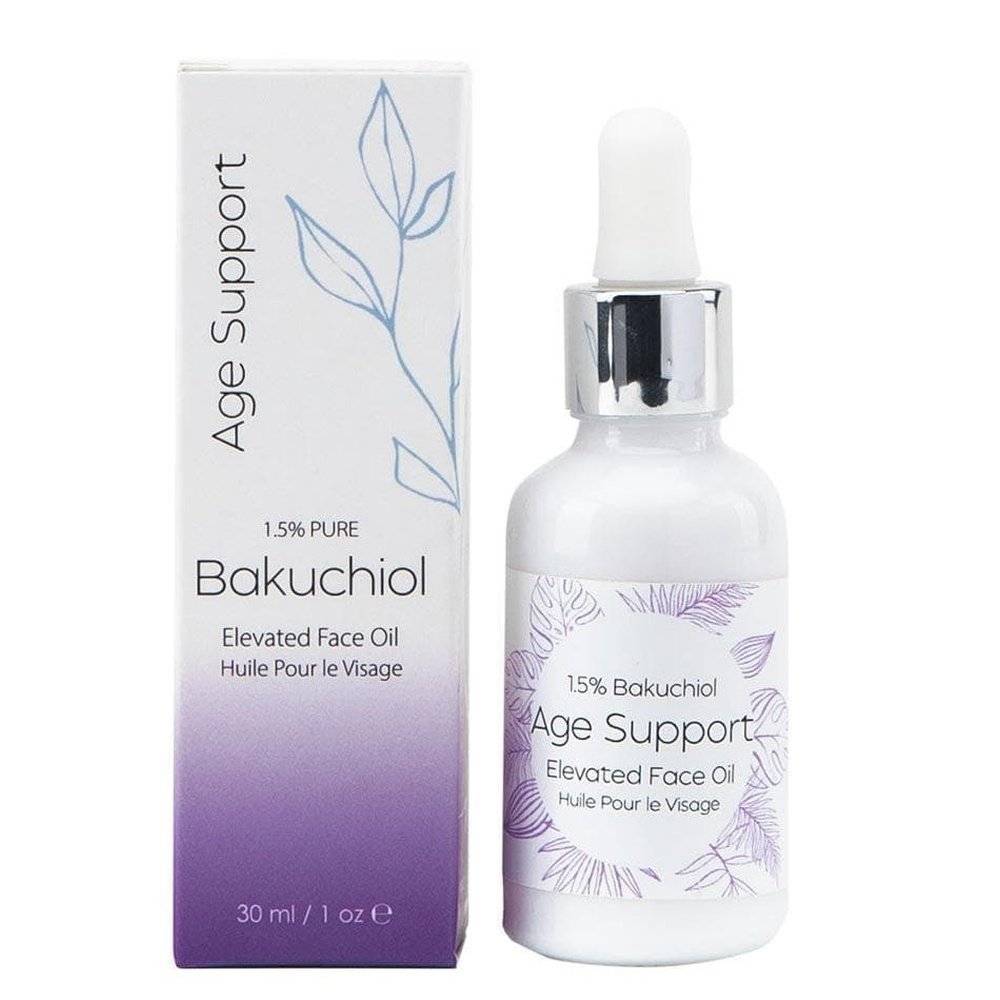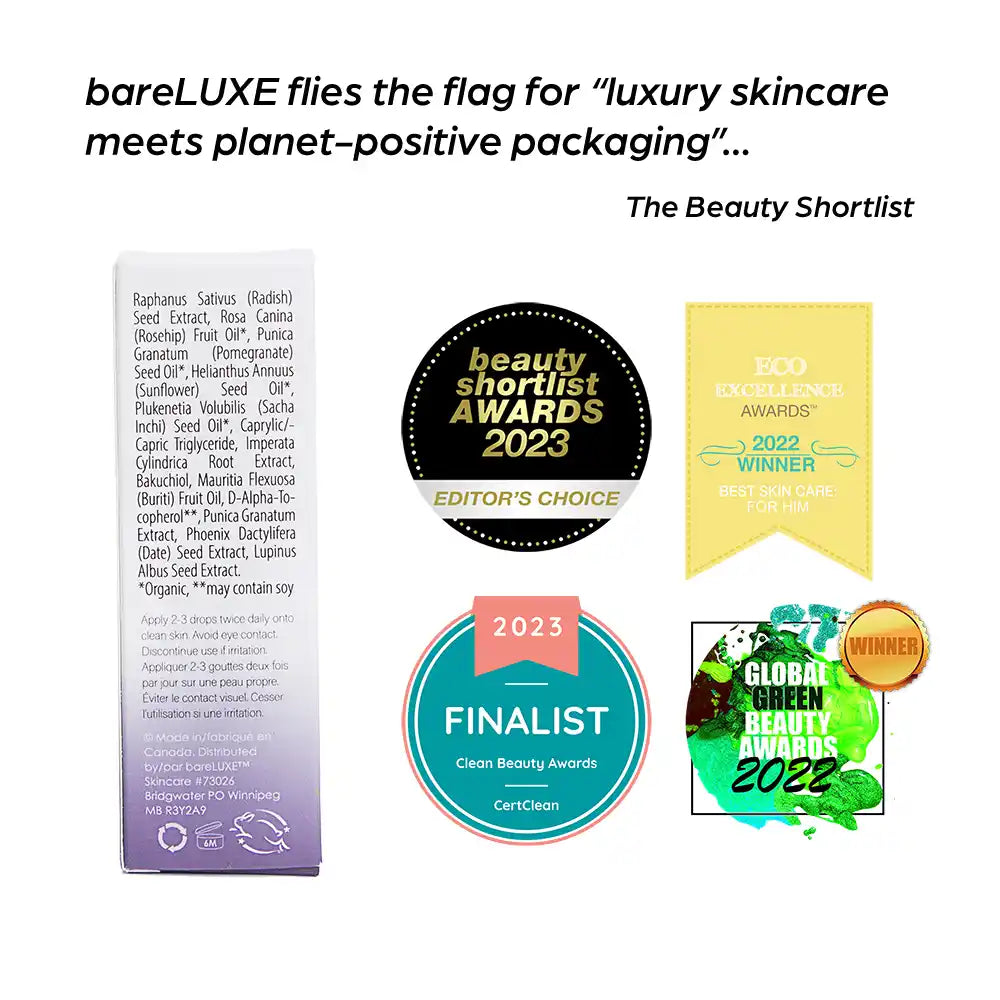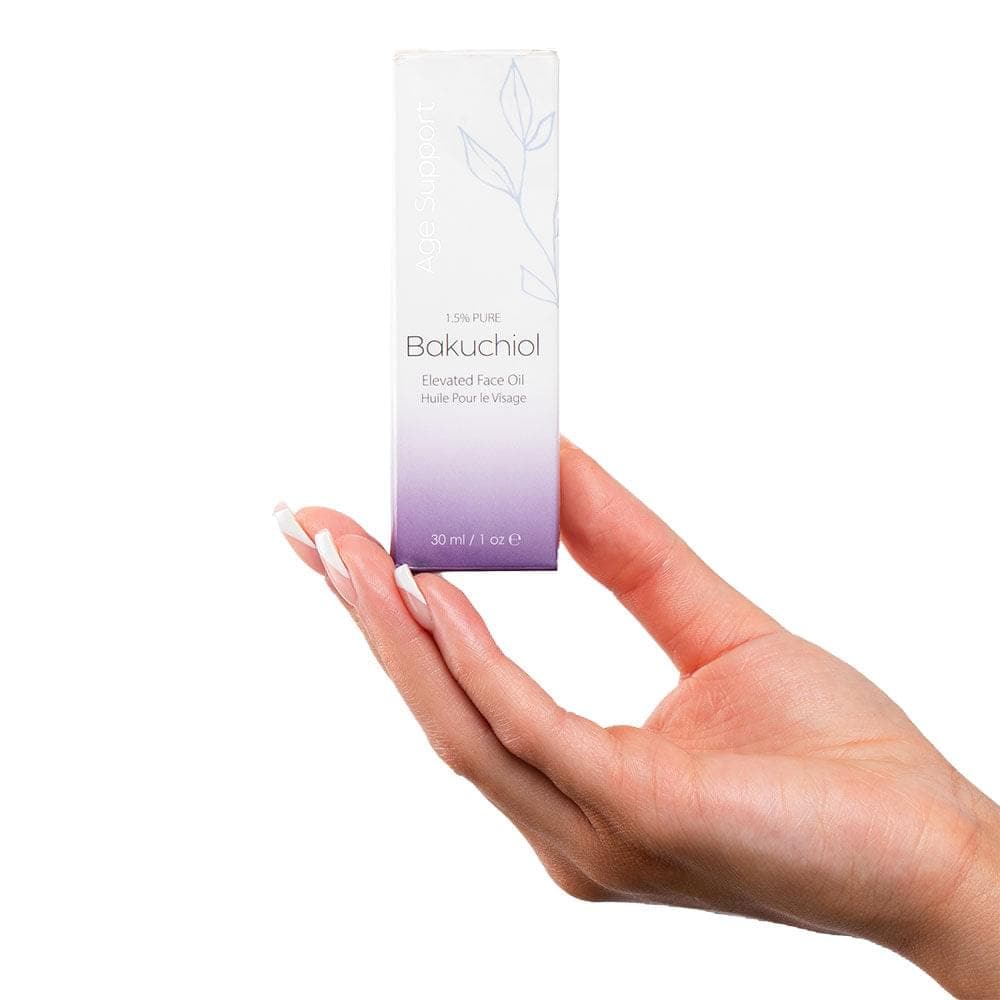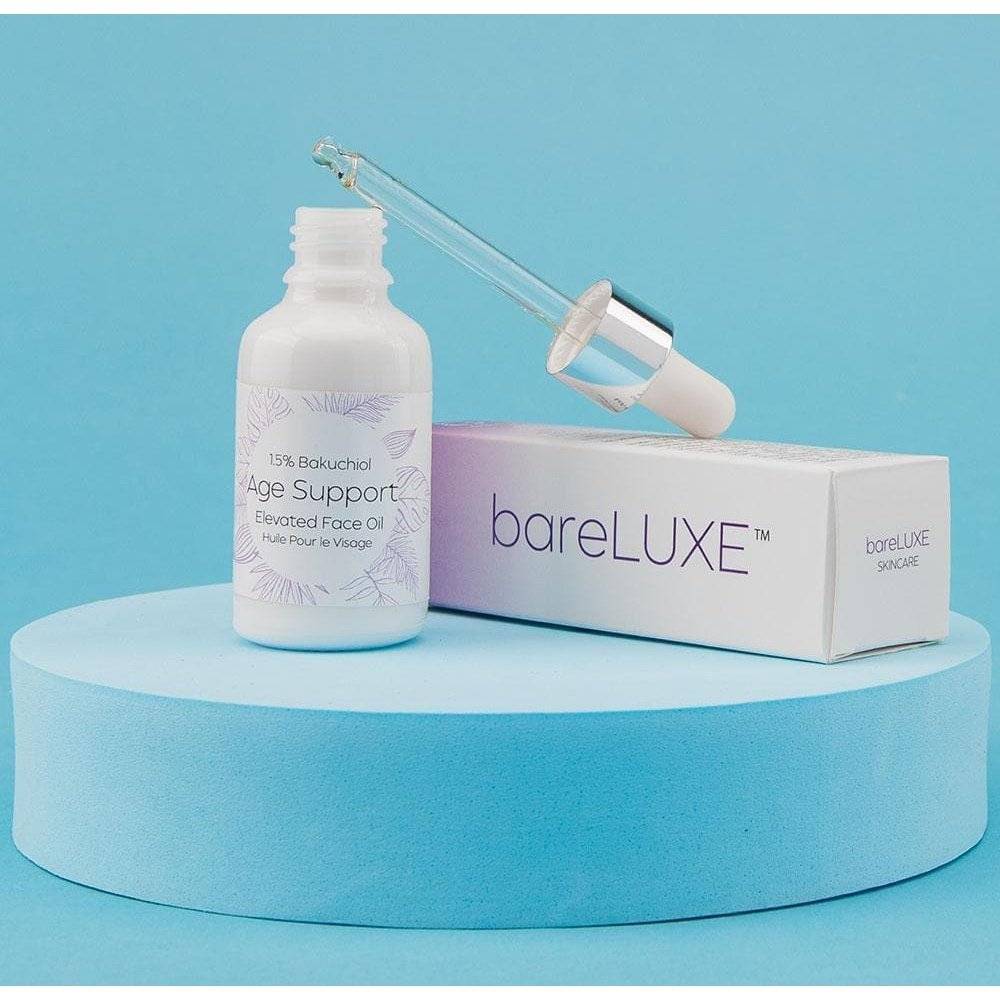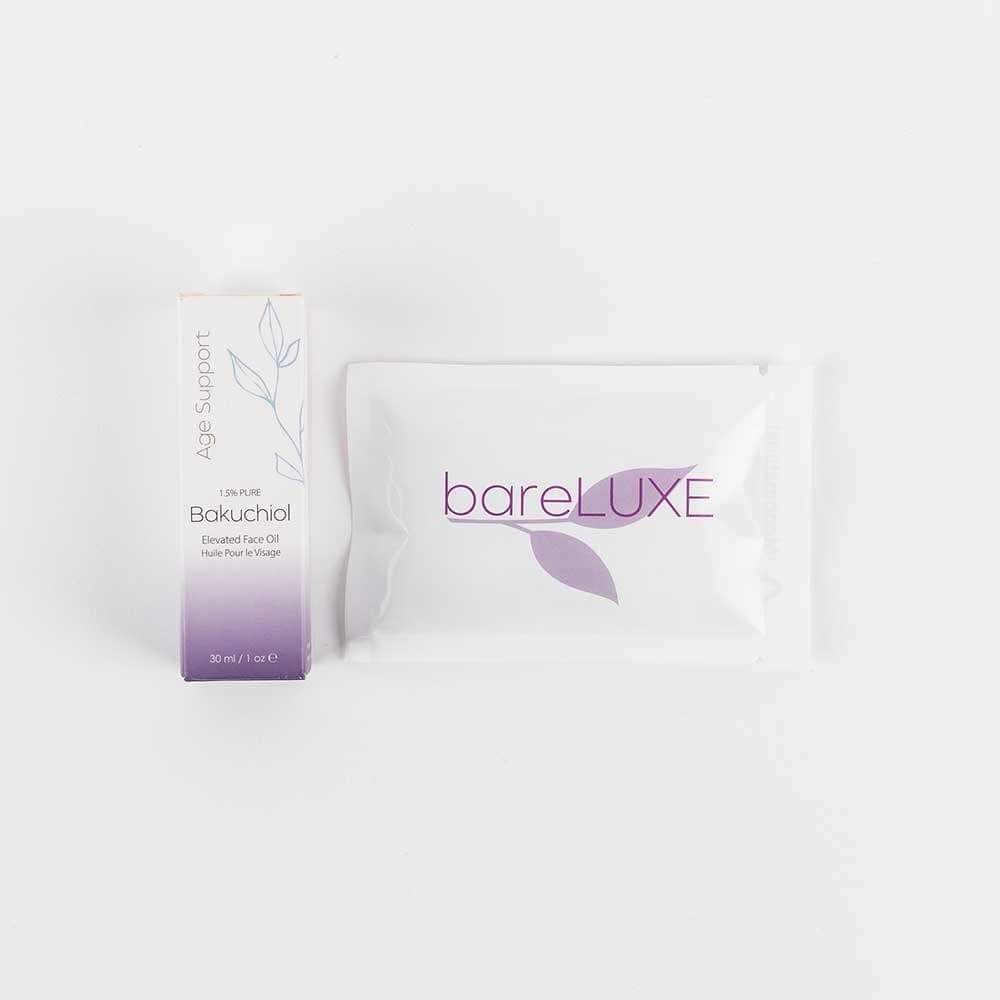 Bakuchiol Age Support Serum
Witness the transformative effects of our Bakuchiol serum, a botanical retinol alternative to support healthy aging.
Sale price
$71.00
Regular price

Restores 250 cm² of coral reef
The coral reef restoration serves to rebuild crucial coastal ecosystems. You can track your impact after purchase.

Unleash your skin's full potential with our award-winning bakuchiol serum, a natural retinol alternative for radiant, youthful skin. 
This waterless, oil serum, crafted with 100% plant-based ingredients, provides a natural, eco-friendly option, making it the perfect retinol alternative.
Powered by bareLUXE's proprietary CoreComplex™ Age Support Oil and boasting 1.5% pure bakuchiol, this serum delivers the benefits of retinol without the side effects.
This bakuchiol face oil combines cutting-edge science and botanical ingredients to effectively tackle uneven skin tone, fine lines, loss of firmness, and hydration - all without the harsh side effects of retinol!
Discover the benefits of our bakuchiol serum:
Non-greasy, fast-absorbing - leaves your skin feeling silky smooth
Bakuchiol targets skin tone, fine lines, firmness, and blemishes
Imperata cylindrica extract hydrates, smoothes, and plumps skin
Date seed extract and Lupeol improve skin's contour, elasticity, and firmness
Ideal for all skin types, including acne-prone, our bakuchiol serum is perfect for those seeking a gentler retinol alternative, particularly during pregnancy or for those with skin irritation or sun sensitivity.
Experience the transformation yourself – get your bakuchiol serum today!
Made in Canada. Ships to Canada and USA.
Raphanus Sativus (Radish) Seed Extract, Rosa Canina (Rosehip) Fruit Oil*, Punica Granatum (Pomegranate) Seed Oil*, Helianthus Annuus (Sunflower) Seed Oil*, Plukenetia Volubilis (Sacha Inchi) Seed Oil*, Caprylic/Capric Triglyceride, Imperata Cylindrica Root Extract, Bakuchiol, Phoenix Dactylifera (Date) Seed Extract, Lupinus Albus Seed Extract, Mauritia Flexuosa (Buriti) Fruit Oil, D-Alpha-Tocopherol**, Punica Granatum Extract.
*Organic, **may contain soy
The subtle, natural scent is woody/earthy (sacha inchi, buriti) and fruity (pomegranate).
bareLUXE Elevated Face Oils all start with one of our proprietary CoreComplex™ Carrier Oil Blends as a nourishing base. They are elevated into effective and powerful oil serums with high-performance active botanicals and oil-soluble active ingredients.

Bakuchiol Age Support Elevated Oil Serum
CoreComplex™ Age Support Blend: Buriti Oil, Daikon Seed Extract, Organic Pomegranate Seed Oil, Organic Rosehip Oil, Organic Sacha Inchi Oil
Performance Botanicals:
Bakuchiol: A 100% pure plant-extracted molecule felt to act similar to retinol, without the side effects. This means users may notice visible improvements in skin elasticity, firmness, texture, pigmentation, radiance, and appearance of blemishes and wrinkles over time.
Imperata Cylindrica Root Extract: Also known as Cogongrass, this extract provides lasting hydration. This results in skin that looks and feels soft, smooth, and plump.
Date Seed Extract: may result in visibly decreased wrinkle number and depth without side effects.
Sweet White Lupine Seed Extract (lupeol): targets skin contour, firmness and elasticity.
This is our bakuchiol science review for more details including ingredient manufacturer information.
Apply 2-3 drops and massage over your face and neck area two times a day. If you use other products, face oil should be the last one applied.
Read our face oil user guide for more details.
Cautions and Disclaimer: Review ingredients prior to use. Do not use in case of ingredient allergy or known hypersensitivity. Consult a physician prior to using especially if you have nut or other allergies. Do not apply to broken skin or open wounds. Stop use if irritation occurs. External use only. Avoid contact with eyes. Keep out of reach of children. Store in original packaging, in a dry and cool place, away from direct sunlight. Products and statements have not been evaluated by regulatory authorities. This product is not intended to diagnose, treat, cure, or prevent any disease and has not been tested for safety. We encourage all customers to consult a health care professional prior to using any new products.
bareLUXE is an anti-plastic activist brand. While we'd love to be 100% plastic-free, using plastic responsibly is also very important. We are committed to integrating novel materials and sustainable alternatives to traditional plastic whenever able.
Our Elevated Face Oil Serums are packaged in recyclable glass vials.
bareLUXE's product refill program is an important way to decrease overall impact because, even though the refill packets are plastic, the 4 key requirements for a sustainable refill program are met.
Depending on the size of your order, your package will arrive in either a fully biodegradable bubble-padded mailing envelope or a FSC Certified, custom recyclable box made from 100% post-consumer recycled materials.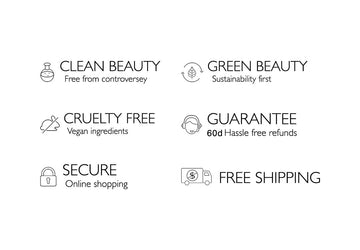 Safe Ingredients. Secure shopping.
60 Day Money-Back Guarantee
How Did bareLUXE Build the Best Bakuchiol Serum Around?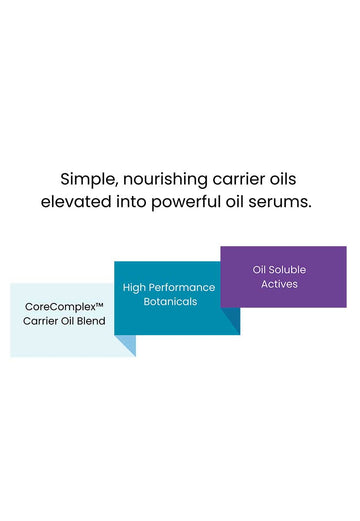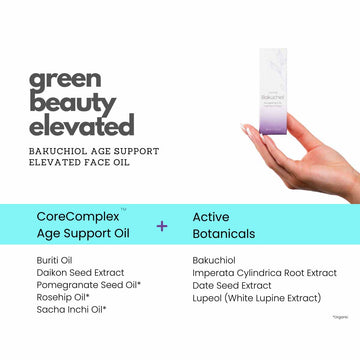 Bakuchiol Serum Before & After Photos
Submitted by Real bareLUXE Users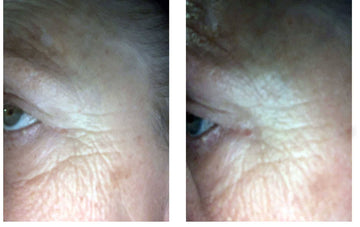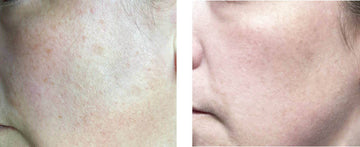 Do you use Bakuchiol produced by Sytheon®?
Yes. We source this ingredient through Sytheon® to ensure purity. We don't use babchi seed carrier oil.
Is this a Bakuchiol face oil or serum?
Both ☺️
We want our customers to understand that face oils containing highly active ingredients, like Bakuchiol, are serums too.
In fact, oil serums can often deliver active ingredients into the skin better than traditional, water-based serums.
Will Bakuchiol serums have the same results as retinol?
The answer is tricky and depends on the type and concentration of products used.
If you're able to tolerate using a prescription retinoid consistently for at least 6 months, results will be more noticeable.
However, the reason you're shopping for a Bakuchiol serum is probably because you want a natural retinol alternative - and this is definitely it!
Decadent oil
I started using this mid-winter when I always struggle with dry skin and have no regrets. It has a rich texture but seems to absorb really well at the same time.
Bakuchiol Serum
Bakuchiol Age Support Serum comes with the dropper in a white glass bottle (zero plastic)
The texture is oily but non-greasy and lightweight.To my surprise does not leave my skin feeling oily at all. My skin is well moisturized, hydrated, and feeling so smooth with a healthy glow.
I can say that my fine lines are looking a little bit better. This serum will definitely take good care of my skin.
I highly recommend trying it.
Great alternative to retinol
I love this natural alternative to retinol. It is so much gentler on the skin and leaves my skin feeling smooth and moisturized. It absorbs well into the skin and is safe for everyday use. Overall, I've noticed an increase in skin tone and firmness in the first month of use and cannot wait to see the effects that it has on my blemishes.
Worth every penny and More
Retinol is a scary word, but using a natural alternative is much gentler, but just as effective. My skin is loving this, I'm 44 years old. I'm noticing a smoother texture all around, my skin I want to say, almost feel stronger if that makes any sense, it feels healthier and my fine Lyons has started to really disappear after just to couple weeks this is mine blowing to me, but I believe that we were given everything we needed and nature to preserve our beauty. I highly recommend anybody try this and I will be very surprised.
My Go To Before Bed Serum
This is the highest quality bakuchiol oil serum you will find. So many fakes and diluted products out there. BareLuxe is the real deal. Very happy with my continued results since I began using it over a year ago.
It's awesome!
I love how it makes my face feel. This is my first time using face oil and will definitely keep doing it. I use it once a day and considering I haven't been using it for very long it's done wonders for my face!
Feels wonderfully smooth on my face and will hopefully decrease some fine lines.
Light feeling and great moisture!