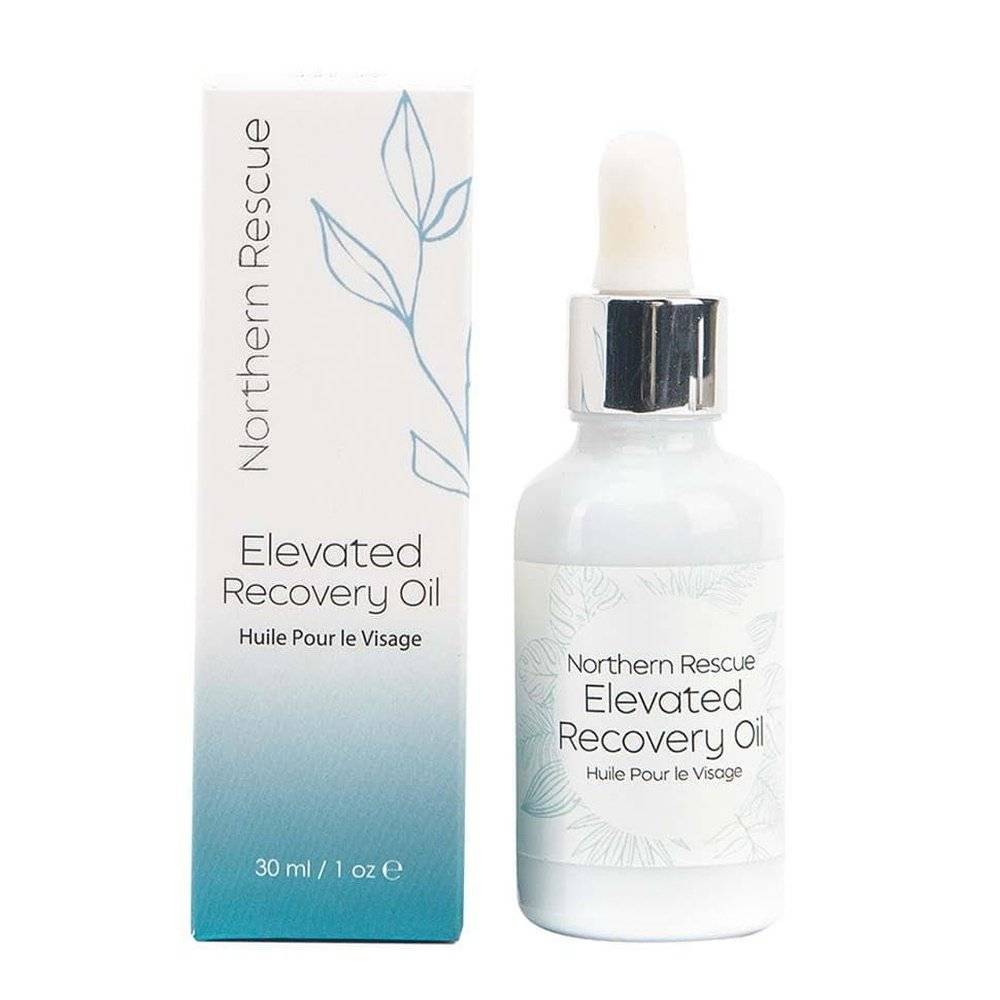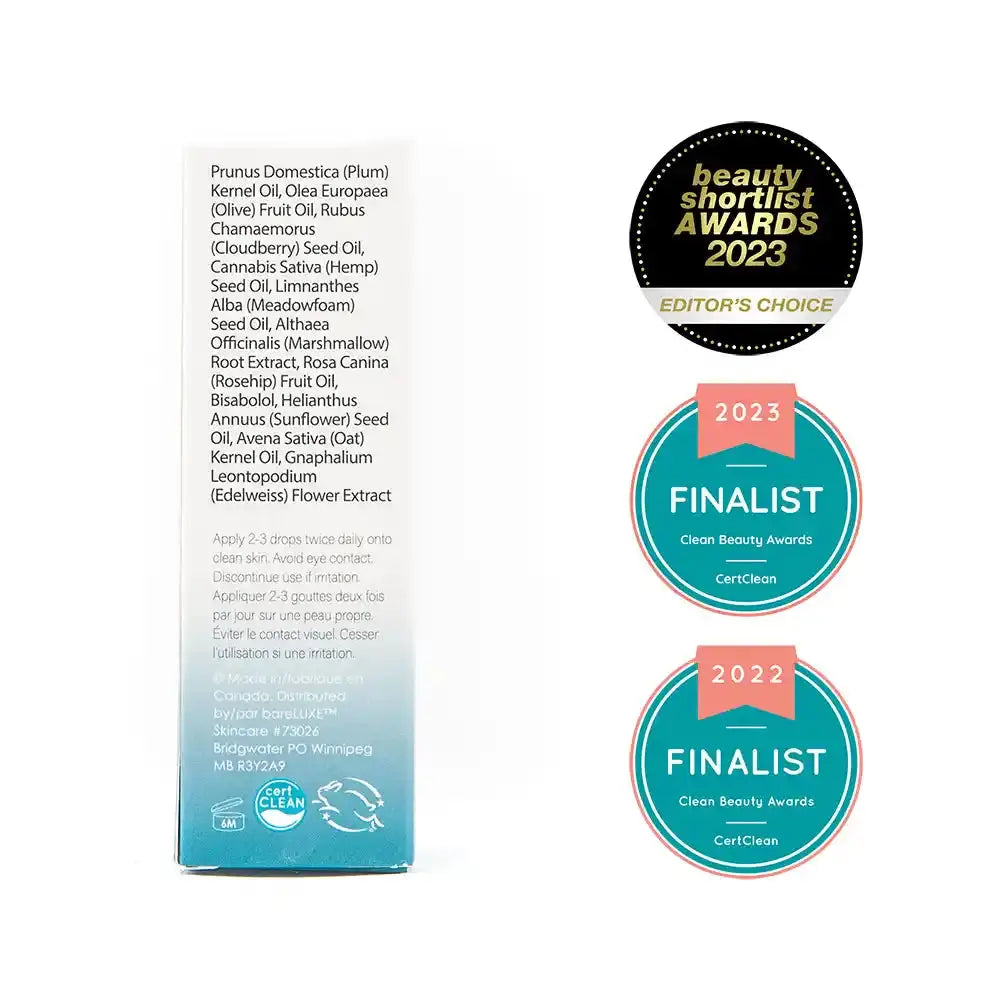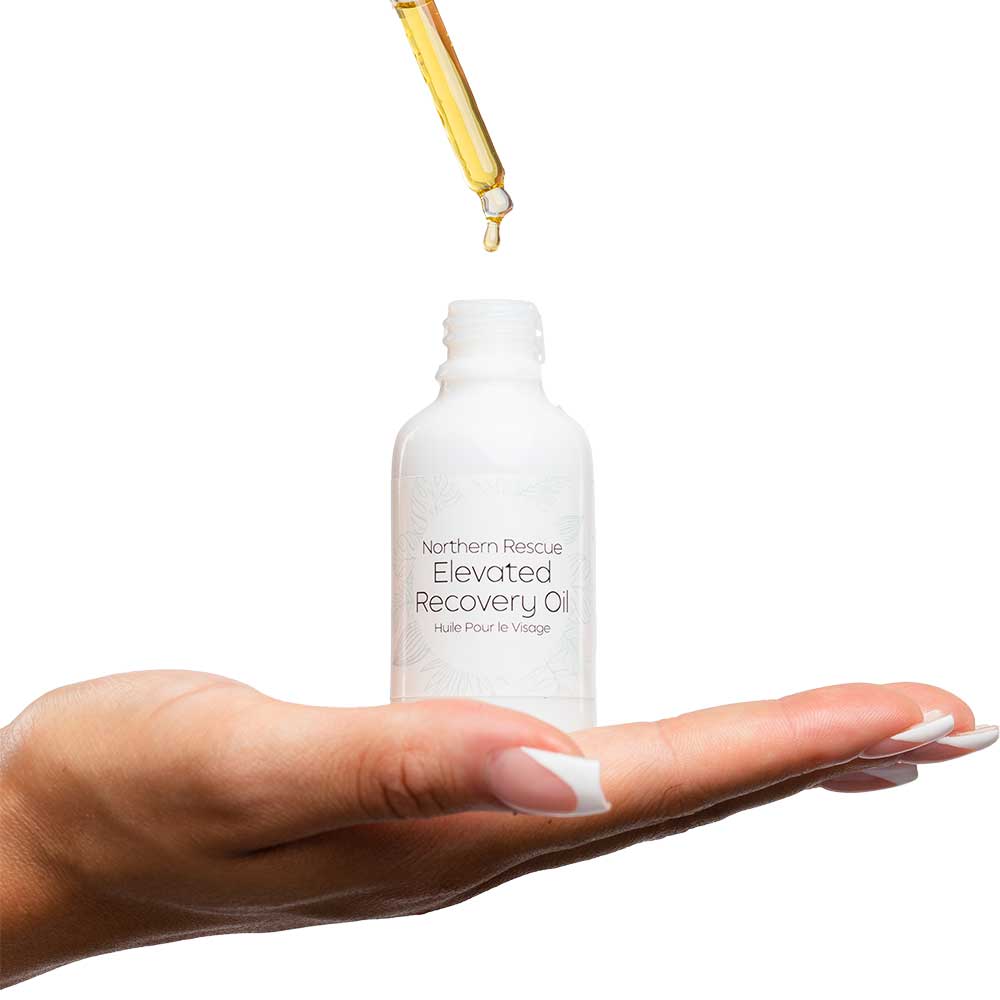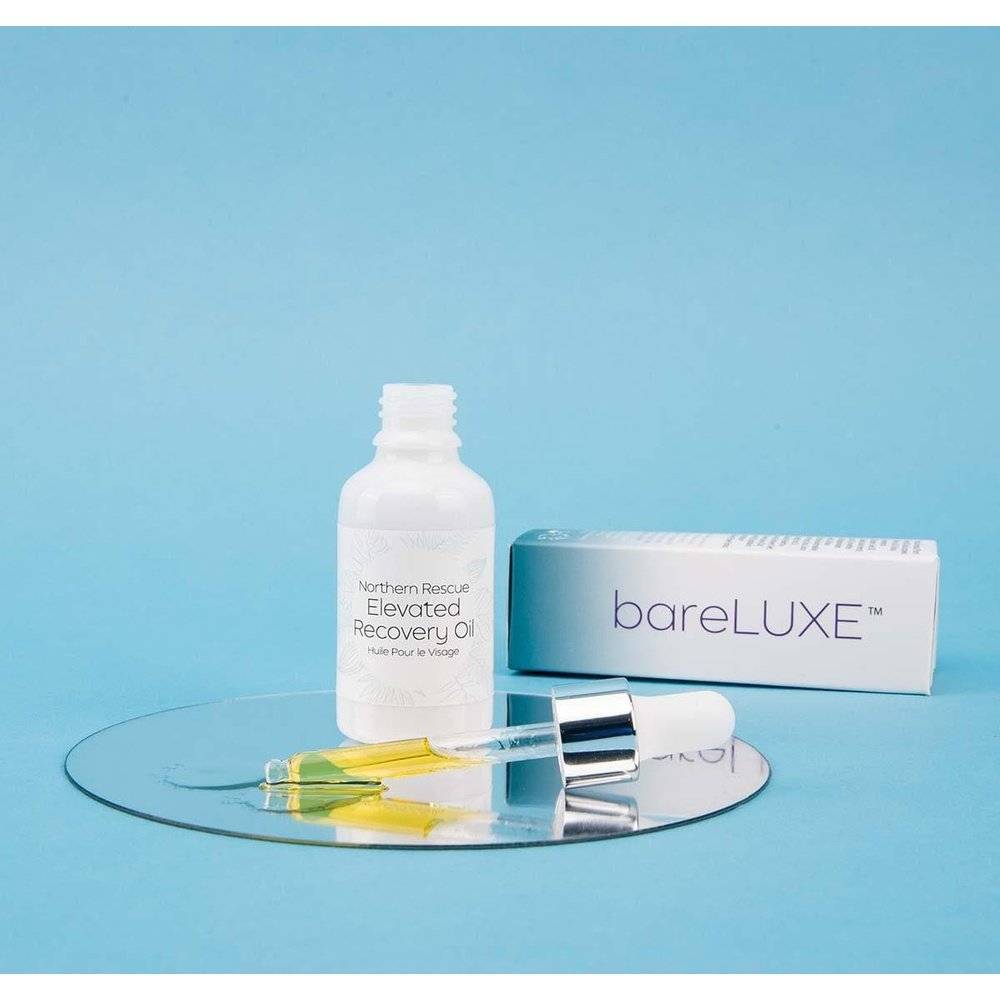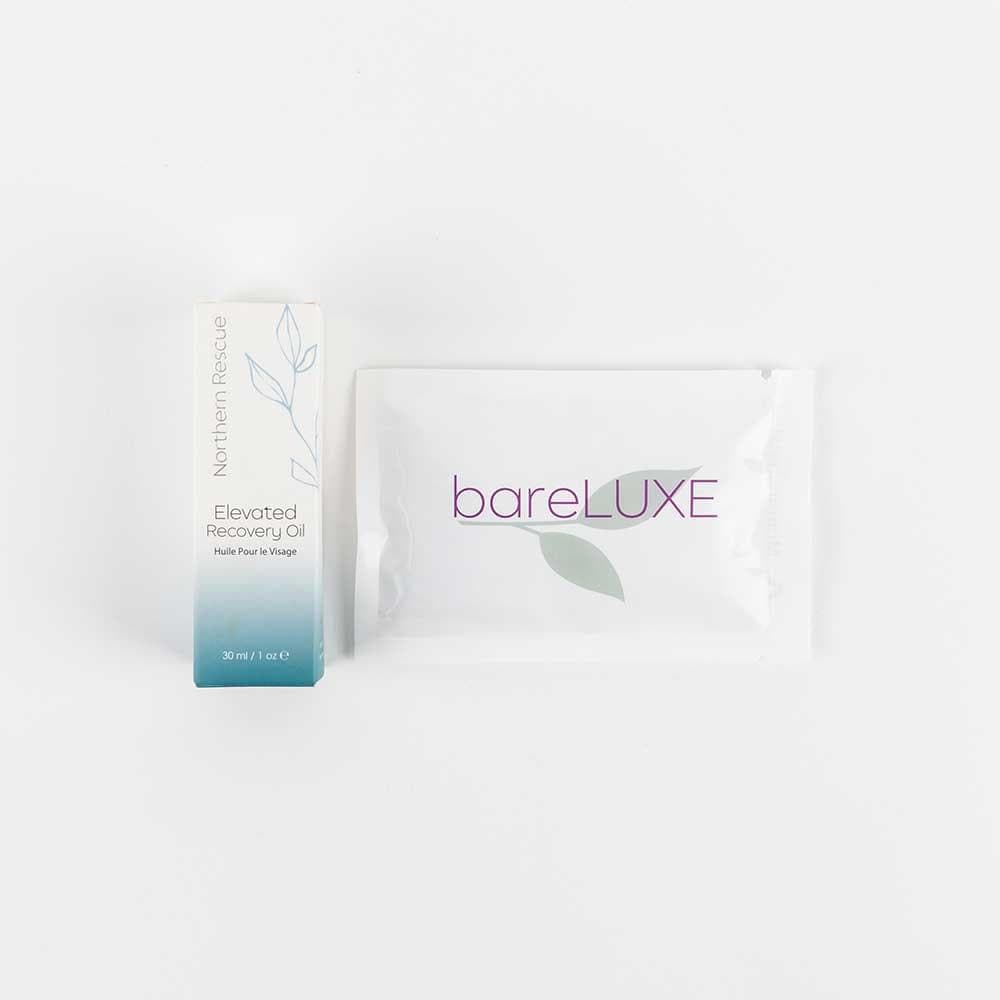 Northern Rescue Elevated Recovery Oil
Discover the power of arctic botanicals in this rescue oil designed for dry skin and harsh environments.
Sale price
$36.00
Regular price
$44.00

Recovers the equivalent of 160 bottles of ocean-bound plastic
Plastic is cleaned from rivers and shorelines, providing income to local waste pickers. You can track your impact after purchase.

Introducing Northern Rescue Elevated Recovery Oil, our rescue serum for dry skin! 
This nourishing rescue oil is formulated with resilient ingredients native to North America, Northern Europe, and the Arctic, catering to those with dry skin or exposed to harsh conditions.
Designed for maximum emollience, Northern Rescue Recovery Oil replenishes and safeguards your skin's moisture barrier. It effectively soothes irritation and redness caused by dryness and exposure to harsh elements.
Enriched with potent antioxidants and active botanicals like cloudberry seed oil, rosehip oil, and edelweiss extract, this rescue serum is blended with soothing carrier oils like oat and plum, delivering a soft, healthy glow to your skin.
Offering protection, soothing relief, hydration, and calming effects, this rescue oil is a must-try for anyone experiencing dry skin or harsh environmental stress.
Product made in Canada. Ships to Canada and USA. 
Prunus Domestica (Plum) Kernel Oil, Olea Europaea (Olive) Fruit Oil, Rubus Chamaemorus (Cloudberry) Seed Oil, Limnanthes Alba (Meadowfoam) Seed Oil, Althaea Officinalis (Marshmallow) Root Extract, Rosa Canina (Rosehip) Fruit Oil, Bisabolol, Helianthus Annuus (Sunflower) Seed Oil, Avena Sativa (Oat) Kernel Oil, Gnaphalium Leontopodium (Edelweiss) Flower Extract.
There are no scents added but some people note mild floral/earthy notes from the oils.
bareLUXE Elevated Face Oils all start with one of our proprietary CoreComplex™ Carrier Oil Blends as a nourishing base. They are elevated into effective and powerful oil serums with high-performance active botanicals and oil-soluble active ingredients.
CoreComplex™ Northern Rescue Blend: Oils of Cloudberry, Meadowfoam, Oat Kernel, Plum Kernel, and Rosehip
Performance Botanicals:
Marshmallow Root Extract: this extract is prized for its ability to protect the skin and help lock in moisture - an effect thought to be due to a plant glycoprotein called mucilage.
Edelweiss Extract: powerful antioxidant that survives the harshest environmental conditions. Harvested sustainably, it contains leontopodic acid, which is thought to strengthen and soothe the skin's barrier.
Bisabolol: supports the healing process and helps shield skin from daily stress. Naturally extracted from sustainably harvested bark of the Candeia tree.
Apply 2-3 drops and massage over your face and neck area two times a day. If you use other products, face oil should be the last one applied.
Read our face oil user guide for more details.
Cautions and Disclaimer: Review ingredients prior to use. Do not use in case of ingredient allergy or known hypersensitivity. Consult a physician prior to using especially if you have nut or other allergies. Do not apply to broken skin or open wounds. Stop use if irritation occurs. External use only. Avoid contact with eyes. Keep out of reach of children. Store in original packaging, in a dry and cool place, away from direct sunlight. Products and statements have not been evaluated by regulatory authorities. This product is not intended to diagnose, treat, cure, or prevent any disease and has not been tested for safety. We encourage all customers to consult a health care professional prior to using any new products.
bareLUXE is an anti-plastic activist brand. While we'd love to be 100% plastic-free, using plastic responsibly is also very important. We are committed to integrating novel materials and sustainable alternatives to traditional plastic whenever able.
Our Elevated Face Oil Serums are packaged in recyclable glass vials.
bareLUXE's product refill program is an important way to decrease overall impact because, even though the refill packets are plastic, the 4 key requirements for a sustainable refill program are met.
Depending on the size of your order, your package will arrive in either a fully biodegradable bubble-padded mailing envelope or a FSC Certified, custom recyclable box made from 100% post-consumer recycled materials.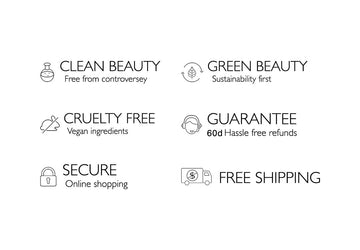 Safe Ingredients. Secure shopping.
60 Day Money-Back Guarantee
How Do We Build the Best Oil Serums Out There?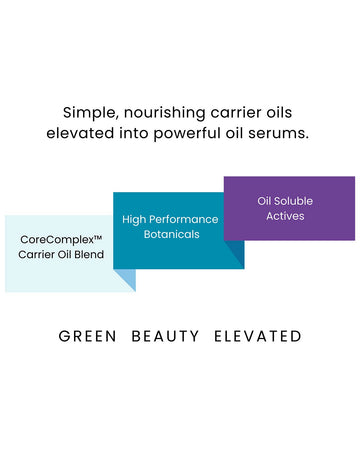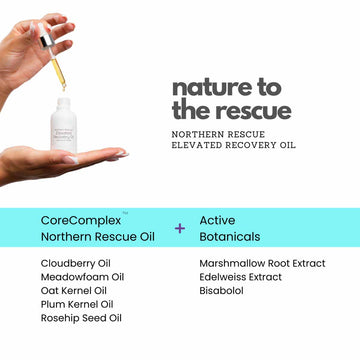 Glowy skin
I really like when skincare products come in glass bottles/jars. The glass bottle (zero plastic) has a dropper. The texture is oily but not too thick. It absorbs quite fast and leaves this beautiful glow. My skin looks and feels amazing.This serum delivers hydration to my skin, which lasts all day long.
Elevated Recovery Oil
Every winter, I end up with dry, itchy skin around my lips and on the back of my hands that lasts all season. This time around I have been using this serum in the mornings before heading out and I haven't had this problem so far. The Northern Rescue Elevated Recovery oil is the only change I have made in my morning routine. Although I use more than the recommended 1-2 drops and my skin soaks it right up! I have sensitive skin and appreciate that no essential oils are used in any of their serums. Love their products!!
Best product
Love this product! My skin has never looked or felt better.
Soothing!
Great oil for when my skins extra dry. I appreciate that it's not scented.
Soothing
The oil was really gentle, light weight but hydrating enough to keep the moisture locked in . Definitely recommended
Facial Massage
I ordered this oil primarily for my facial massage. Since using it my skin looks so nourished and glowing...in fact dare I say....more youthful.
Thank you bareLUXE!!
So nourishing!
This oil is extremely nourishing. Because I have combo skin, I usually apply this last over my moisturizer. I also find myself reaching for it to use on my neck & chest but I am also loving it on my hands. It has made a huge difference on my hands, especially after the cold winter we just had in Canada. If you have dry skin, you need this!
Recovery oil
I've used this in my nightly routine, I really like the fact it's not greasy, absorbs into my skin, and it feels soft. Thanks